Devoteam & Salesforce Partnership
As a Top EMEA Partner, we help our clients across the full Salesforce and offer Sales Cloud, Marketing Cloud, Service Cloud, Pardot, Tableau, MuleSoft, Nonprofit Cloud and more.
Our MuleSoft Bootcamp is created to hire new team members who want to become MuleSoft experts!
If you are a fresh graduate or an experienced IT professional and would like to start a career in MuleSoft, apply for this program in your Devoteam country.
This program is organized twice a year.
Apply now
MuleSoft Bootcamp Academy
MuleSoft Bootcamp brings a full hands-on experience with theoretical components mixed with the realistic business challenges, straight from the real projects.
This specifically designed program consists of a training path, additional modules, a challenge part, and a Real-project experience, based on work on internal projects (ViaB).
The key outcome of MuleSoft Bootcamp Academy is a fully-developed consultant able to actively participate in the real project .
Who can apply?
Devoteam MuleSoft Bootcamp is intended for all the Devoteamers who have basic knowledge of the following concepts:
DATA-BASE
OO CONCEPTS
XML
JSON
WEB SERVICES
To check your prerequisite knowledge you are required to access the MDA game on IT Basics topic.
The official language of MuleSoft Bootcamp is English.
Apply now
Start
Prerequisite knowledge MDA game.
Onsite Bootcamp
Onsite Bootcamp 3 weeks MuleSoft training at CoE Salesforce, Serbia.
Challenge
Challenge & Additional Modules – RAML Specification, MUnit, CI/CD; followed by online sync ups (~5 weeks).
VIAB
Participation in the internal project, 8-16 weeks.
Goal
Fully knowledged Consultant.
What do you get from the Bootcamp?
CoE Training
3-week long onsite instructor-led training led by official MuleSoft Training path for MuleSoft Developers Level 1. Introduction to Challenge Assignment.
Additional Modules
Covering additional modules: RAML Specification, MUnit, CI/CD; followed by online sync-ups. Challenge presentation and board grading.
Certification
Preparation for the Certification: MuleSoft Developer, Level 1.
ViaB
Real-project scenario put in Internal Project. All project phases included, together with agile way of working (Scrum).
Bootcamp Key Benefits
Fully knowledged Consultant MuleSoft certified
Real-project experienced
Scrum experienced
International team work experience
Apply now
Apply now and face your future.
If you are ambitious and interested in joining a fast-growth team join us and give your career an exciting and flexible trajectory.
After submitting your application, our recruitment team from selected operating unit will contact you.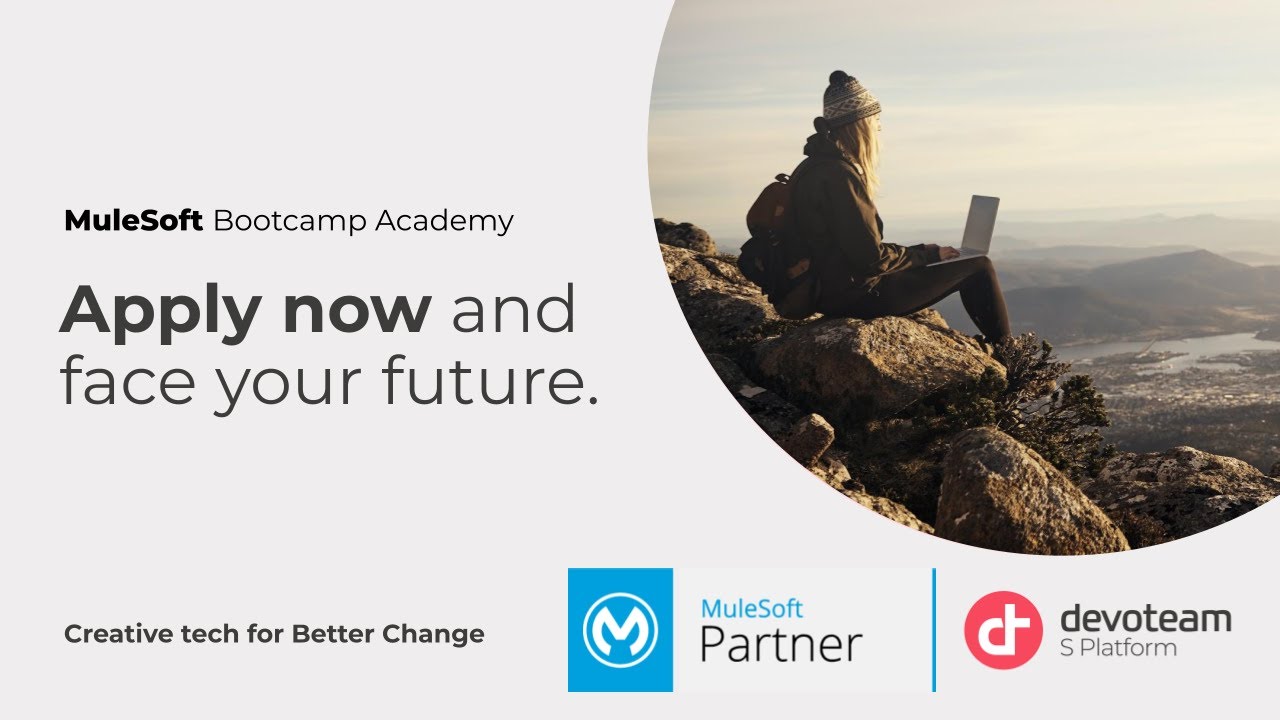 Do we fit with your values ?
At Devoteam we follow 5 guiding principles, our values, in everything we do. Will these values help you find success?
Respect

At Devoteam we are humble, treat everyone respectfully, welcome newcomers, embrace diversity and take good care of one another.

Ambition

We are passionate and committed, continuously improving, driving more value for our customers thanks to specialization and multidisciplinarity.

Collaboration

As a learning company, we promote collaboration, curiosity, and share knowledge across teams.

Frankness

We are transparent and encourage all employees to actively provide and request candid & constructive feedback to build real trust.

Entrepreneurship

We are self-disciplined, and continuously fight bureaucracy. We are on the field with our colleagues and reward and celebrate successes.
– Learn more about our core values