Innovate, Collaborate, and Inspire: Devoteam DreamFest is Back!

DreamFest 2023

If you're looking to accelerate your business growth, discover industry insights, network with like-minded professionals and get the highlights from Dreamforce 23, then great news – DreamFest is back, and it's going to be better than ever!

Register now.
DreamFest 2023
Innovate, Collaborate, and Inspire
DreamFest 2023 is open to anyone passionate about technology and innovation. Whether you're an IT professional, entrepreneur, business owner, or simply curious about the future of technology.
The in-person event is hosted by Devoteam S Platform with experts from Salesforce, MuleSoft and Tableau. 
Held at 3 locations – London (UK), Spijk (Netherlands) and Madrid (Spain) – DreamFest is your chance to discover revolutionary strategies for AI, Data and CRM, as well as network with like-minded professionals.
Attending DreamFest will provide you with invaluable information in the form of expert presentations, inspiring keynotes, and captivating roundtable sessions. Allowing you to go away with innovative ideas that will allow you to drive digital transformation within your business.
Secure your spot now and join us LIVE at the spectacular DreamFest 23!

Mark Your Calendar and Save Your Seat!

Choose the location nearest you below to be taken to the registration page.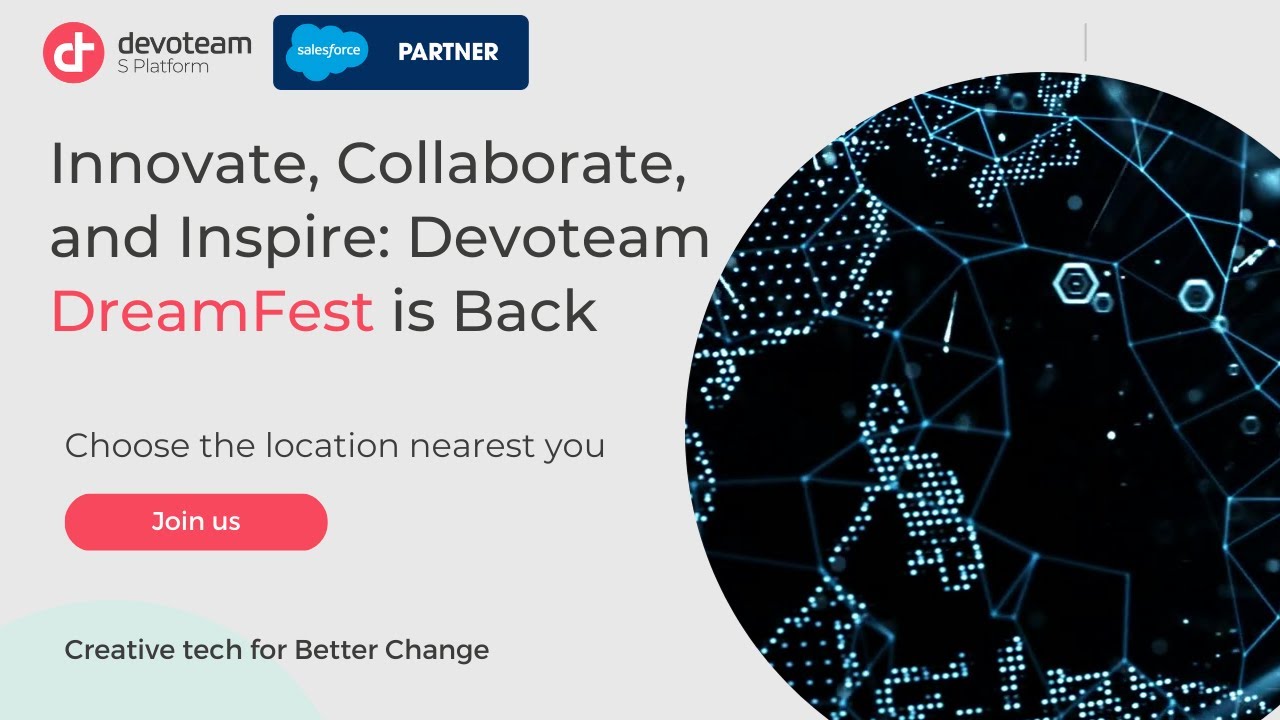 What to expect from DreamFest 23?
DreamFest 23 is not your average LIVE event, and you can expect:
Dreamforce takeaways and insights – It's well known that Dreamforce is THE place to be. But we also understand that not everybody can attend the flagship event in San Francisco. So we focus on providing you with all the key takeaways and insights from the event so that you don't miss out.
Three exciting days of being treated to diverse presentations, customer stories and inspiring keynotes – which will not only leave you inspired to innovate yourself but will provide you with the insider information necessary to leverage the technology available at your business.
Interactive roundtable sessions will allow you to ask questions and build your network with our S Platform leaders and special Salesforce, MuleSoft and Tableau guests.
Networking events at London, Madrid, and Spijk. These vary depending on location and venue, but previous events are mini-golf, table football, bowling, fine dining and even a go at the driving range.
To discover our Devoteam spirit – As a global partner of choice for Salesforce, MuleSoft, and Tableau for over a decade. You'll get to know us, meet our experts, get acquainted with our teams, and discover what it truly means to be our customer, partner, or employee.
The clock is ticking, and seats are filling up fast!
Don't Wait – Register Now!
Register now and secure your seat at DreamFest 23. Choose the location nearest you below to be taken to the registration page.
For any inquiries or assistance,
feel free to reach out to our dedicated support team.
See you at DreamFest!
Insights & Events
The digital world is always spinning on its axis. Keep up to date with all things digital!